Trump rubs his hands with glee as Democratic vote results in embarrassment
It's a long journey to The White House for any candidate, with a year of convoluted votes across America - referred to as the caucuses - to simply establish who the eventual representatives from the Republican and Democrat parties will be, let alone who will actually become the next president.
Yesterday, in the first round of this procedure, the Democrat Party focused on the state of Iowa, where libraries, schools and churches were turned into polling stations.
With a sense of excitement in the air that the battle to remove Trump from power was finally underway, hopes were buoyed by a good turnout.
However, this optimism and energy was soon replaced by a sense of embarrassment when it became clear that technology had undermined, or rather failed, the whole event.
A caucus vote is unlike a secret ballot, where a candidate will talk at a meeting before a show of hands discerns who is the most popular, and it appears that compiling these figures across the State last night became impossible as the app that the tellers were using crashed, or failed in some way.
Vermont Senator Bernie Sander, who appeared alongside Hillary Clinton in the last presidential candidate race for the Democrats, crowed that he was victorious, but one of his opponents Peter Buttigieg was claiming victory as well.
It does seem that a paper trail of the night's events can redeem the situation, albeit it will take a few days for the results to emerge in the public domain, but obviously for Trump this calamity is an absolute joy.
Trump it seems, although not doing well in terms of popularity in several US polls, does still seem to be the favourite to secure a second term in office.
His unfamiliar, and often chaotic, style does still have resonance among the voters and his perpetual ridiculing of the left of centre establishment, has been further fuelled by the chaos in Iowa.
After all, how simple is it to claim that if the Democrats can not run a ballot, they should not be trusted to run a country.
It is hard to believe that a man who has just been impeached by Congress, and is currently awaiting the outcome of his trial in the Senate, could even consider the possibility of being president. However, it seems that as has been the case in the past four years, Trump is a law unto himself.
The Democrats will be worried by these recent events, especially when their servers were hacked by Russians in the 2016 election, and will be desperate to avoid any other calamities.
It seems that Trump is made of some sort of political Teflon, to which no scandal is able to stick. Somehow the Democrats have to access some of the same if they can hope for any impact in this year's election.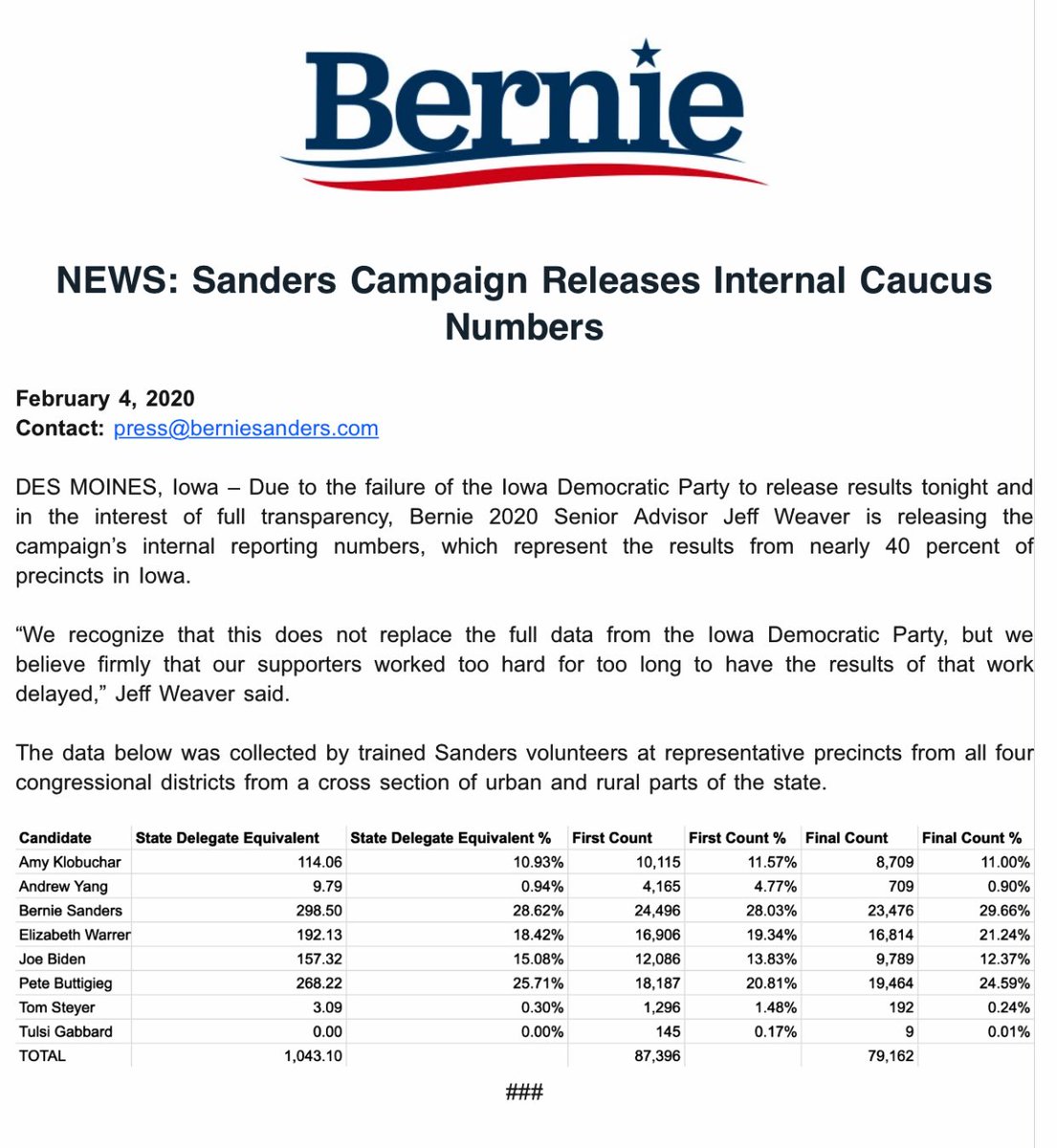 Bernie Sanders internal caucus numbers (nearly 40 percent of the precincts in Iowa):
Sanders 30%
Buttigieg 25%
Warren 21%
Biden 12%
Klobuchar 11%
https://t.co/W4hPIZn8W3