Sajid Javid resigns as Chancellor as Cummings tightens his grip on government
Little was expected from the prime minister's cabinet reshuffle yesterday. Having won such a decisive victory at the general election in December, with a budget on the horizon in March and trade deals to negotiate with the EU, it was expected that Johnson would steady his ship with few changes.
However, as has been the way in British politics in the last few years, there has been something of a seismic shift, that has sent shockwaves through the Tory Party.
All was well at Number 10 until it came to the prestigious role of Chancellor of the Exchequer. Incumbent, Sajid Javid was seen as a dead cert to continue in the role and deliver his first budget, but the PM, and particularly his senior political adviser, had different ideas.
Historically, the relationship between No's 10 and 11 Downing Street has been a powerful one, with No 11 trying to keep the fiscal rein on its neighbour. In recent years, the war between Tony Blair and Gordon Brown was legendary and caused many policy issues between the two sides, and it seems that Boris Johnson is wary of the same thing happening again.
Javid was invited to stay in his post yesterday, but only if he fired the advisers around him and employed experts who the prime minister advocated.
In what Javid construed as an act of gross disloyalty, the Chancellor resigned from his post and was swiftly replaced by 39-year-old Rishi Sunak.
Political commentators were caught on the hop as the story unfolded, but soon it became clear that the day's events had been orchestrated by Dominic Cummings.
As one of Javid's allies announced, "This is about Cummings wanting total control," continuing, "Whether it was because he wasn't a Brexiteer from the beginning, or because he didn't go to Oxbridge I don't know. He didn't like him and in this Government if he doesn't like you, that's it."
It appears that No 10 wanted a joint team of economic advisers based in Downing Street, not the treasury, thus giving the PM more power at the helm.
Javid is now set to be a powerful enemy of the Cummings/Johnson partnership which could cause some havoc for the prime minister.
Only last week, Cummings was annoyed that Sajid leaked the government's plans to back HS2, out of turn, so now it seems future leaks might be inevitable.
Of course, what has been alarming to many Conservatives is the power that an unelected person has over government policy
With Johnson having to uphold his election spending policies to reward his supporters, Javid's replacement will make this possible. It seems that Sunak is happy to comply with the new regime and in effect empower Johnson further.
However, it seems that the man currently with most power in the UK is a still a certain Dominic Cummings.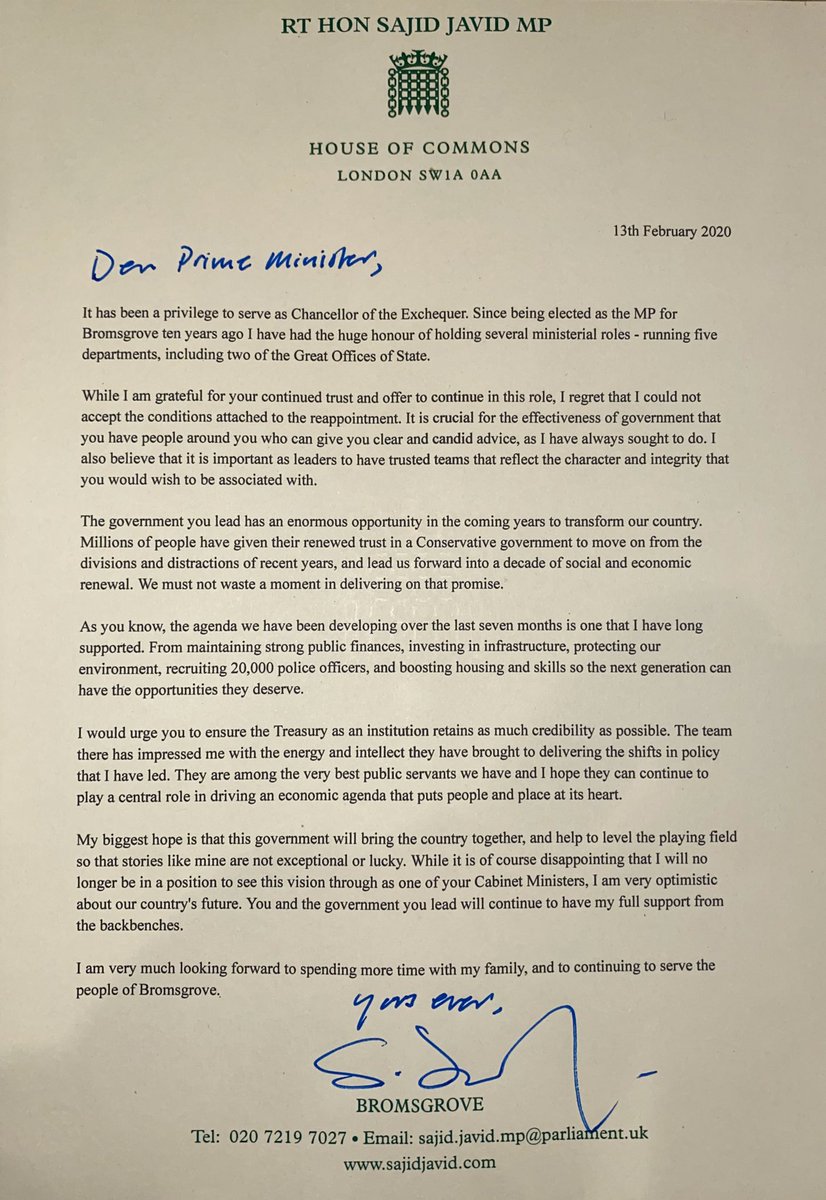 It has been a privilege to serve as Chancellor of the Exchequer. The Prime Minister & government will continue to have my full support from the backbenches.
https://t.co/cFo0fuaqv2