Lib Dem support up four points rivalling Labour at the ballot box
Jo Swinson, the new leader of the Liberal Democrats it appears is taking her party to an all time high, if recent opinion polls are to be believed.
It is not so much Swinson herself who is generating this enthusiasm, in fact some question her strength as a leader, but her ability to galvanise the party around a central unswerving theme , and that is of course that Liberals are pro-Europe and anti-Brexit.
In fact it appears that people are rallying around the Liberals , for exactly the same reason that Nigel Farage and the Brexit Party became popular .
Both political parties are totally unambiguous about what they represent, albeit that their stances are complete polar opposites.
Also in the same way that Farage has been able to appeal to politicians across the political divide, so the Liberal Democrats now have ex Tory and Labour MPs in their midst.
It seems that although the political landscape in the UK is changing, the success of Swinson and Farage actually indicate that it is more clearly divided than ever.
However, it is to Corbyn's cost that in trying to allow for both retainers and leavers in disown party, he is losing support, exactly in the same way as Theresa May did.
The latest YouGov poll for The Times newspaper, puts the Lib Dems at 23% this week, up four points from last week with Labour down two points at 21%.
Amazingly, and reassuringly, for Boris Johnson, the Conservatives are polling at 32% which hasn't changed even over the last drama filled week.
It seems from this result that Labour has made a serious error by trying to please both remain and leave supporters in their camp at the same time, and could well suffer very badly at an imminent ballot box.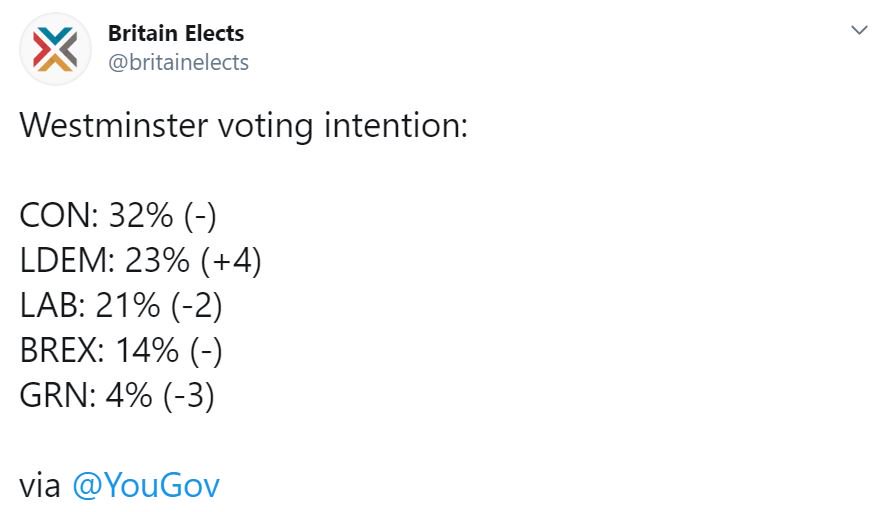 🎉📈#LibDemSurge📈🎉
The Liberal Democrats are the real party of opposition to this Tory Brexit. We're winning across the country and with our new leader @
joswinson
we're ready to stop Brexit and build a liberal Britain.
Be part of the change now >
https://t.co/uhtmkgT1D2
https://t.co/eBSzC9vjbP
Party With Most Seats At Next General Election
Party With Most Seats At Next General Election
BEST ODDS
Odds correct as of 28th Oct, 09:59 . Odds are subject to change.