Less  than 24 hours to go and still everything to play for
Tomorrow the United Kingdom will take the opportunity to go to the polls and end the stalemate that has been the scourge of Westminster for the past three years.
The last time Britain had a general election, it was supposed to be a confirmatory vote to endorse the new Tory Leader, Theresa May, as leader of the country. However, the result was one of the main components in the political chaos that ensued because May lost seats and only clung onto power by forming a working alliance with the DUP.
Ironically, while Boris Johnson did go back to Brussels and adapted May's Withdrawal Agreement to some extent, the lack of backing in parliament meant that, like May, he decided to go cap in hand to the country for the first December general election in decades.
Subsequently the past six weeks have seen TV screens, radio shows, social media and newspapers furtively engaged in political dissection. There have been the inevitable scandals, like Labour's alleged anti-semitism, the Tory's alleged selling off of the NHS and the Liberals move from revoking Article 50 to backing a second referendum.
None of the political parties or their leaders have come through unscathed, as expected.
However, although the Conservative Party has been in front, according to the polls, an a majority government led by Boris Johnson seemed to be in the bag, it seems on the eve of the bog day no-one is nearly as sure.
Historically of course, the pollsters have had a bad time predicting outcomes, in particular failing to forecast even the EU Referendum result and it seems tomorrow's result is similarly overshadowed by unusual circumstances.
Brexit it seems has made determining the outcome more difficult, because voters are probably going to vote in unusual patterns.
Many of the electorate are suggesting they will abandon lifelong political loyalties, crossing party boundaries to get what they want regarding Europe. There will then be tactical voting which could really change the outcome too.
Of course, 24 hours in politics is a very long time and scandals could unfold to scupper the whole proceedings entirely, however it now seems even more possible that although the Tories may have the most seats, another hung parliament could well be in the offing in which case the country will be no further forward than it was when Johnson first started the process.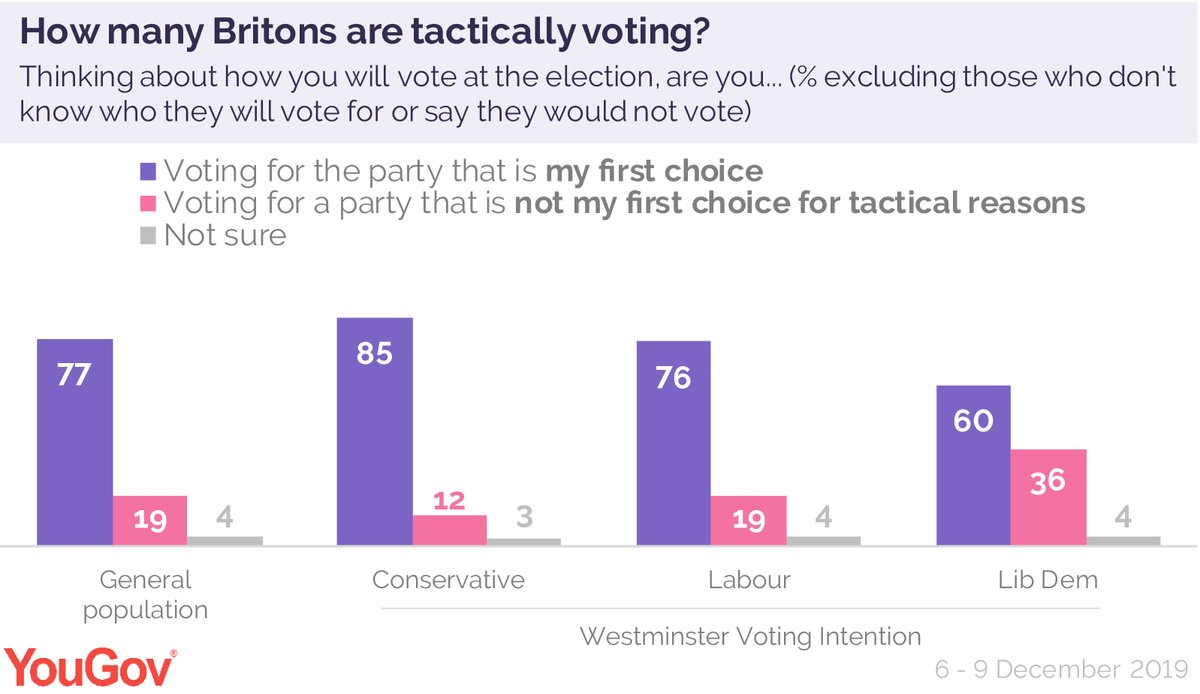 One in five voters (19%) say they will use their ballot paper tactically rather than opting for their first choice. Those who would otherwise vote Lib Dem are the most likely to use their ballot for this purpose (36%)
https://t.co/kwqRdI7o6R
https://t.co/yGtP9RDbGX
Government after general election
| | |
| --- | --- |
| Conservative Majority | 1/3 |
| Labour Minority | 6/1 |
| Conservative Minority | 11/1 |
| Labour – Snp Coalition | 12/1 |
| Conservative – Dup Coalition | 18/1 |
| Labour – Lib Dem – Snp Coalition | 22/1 |
| Labour – Lib Dem Coalition | 25/1 |
| Labour Majority | 25/1 |
| Conservative – Brexit Party Coalition | 33/1 |
| Conservative – Lib Dem Coalition | 66/1 |
| Lib Dem – Snp Coalition | 200/1 |
| Lib Dem Minority | 200/1 |
| Conservative – Labour Coalition | 300/1 |
| Lib Dem Majority | 400/1 |
| Brexit Party Minority | 750/1 |
Government after general election
BEST ODDS
Odds correct as of 12th Dec, 09:35 . Odds are subject to change.