Johnson cancels select committee appearance for third time to evade scrutiny
It has become customary for Boris Johnson to behave in a manner that is very different from past UK prime ministers. Proroguing parliament was his most defiant move, although in the end The Supreme Court Judges found his behaviour unacceptable, indeed illegal, and he tried to evade the power of The Benn Act, churlishly refusing to sign a letter sent to the EU asking for an extension, although sending a second one explaining he did not believe in the sentiment of the first.
It seems that Mr Johnson is happy to bend or break convention at every turn and now it is his cancellation of an appearance in front of a Commons Select Committee that is infuriating MPs.
Today he was due to appear in front of the Commons Liaison Committee, comprised of chairs of the other select committees, but a scrawled hand-written note on Wednesday Night indicated that, for the third time, he would not be appearing.
His excuse was that he was too busy with Brexit and he would be happy to attend in five or six months time.
Sarah Wollaston, a former Tory MP who joined the Liberal Democrats earlier this year, and chairs The Liaison Committee was unimpressed by the PM's excuse.
Wollaston cited her anger and disappointment and pointed out, ""Our role as select committee chairs is to ask you detailed questions on behalf of the public and we planned to do so on Brexit, climate change, health and social care. It is unacceptable that you are refusing to be held to account."
However, it seems that it doesn't matter how infuriating the prime minister is being, there is little that parliament can do, in this instance to rein him in, no matter how much he protests.
While the bookies seem sure that the Tories will be returned as the biggest party at any imminent general election, should the outcome be another hung parliament, it is clear hat this sort of behaviour is not winning the PM any friends.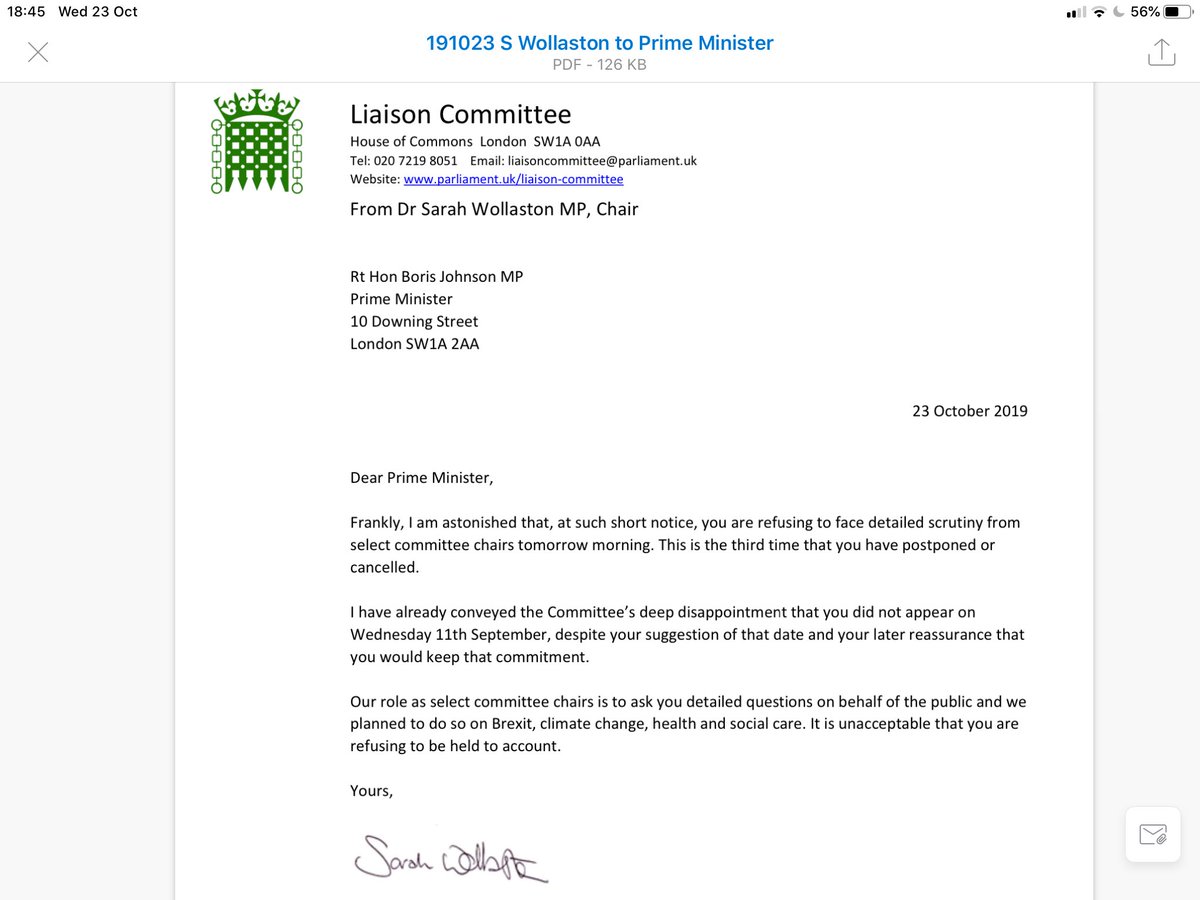 Appalling that the PM is refusing to answer detailed questions from select committee chairs on behalf of the public, cancelling again at very short notice rather than face scrutiny
https://t.co/3y9XjAzhjG
Boris Johnson Betting
| | |
| --- | --- |
| Boris Johnson To Lead The Conservatives At Next General Election | 1/14 |
| Boris Johnson To Be The Shortest Serving Pm Ever (Under 119 Days) | 5/6 |
| Boris Johnson To Be Replaced As Prime Minister In 2019 | 5/2 |
| Boris Johnson To Leave The Conservative Party In 2019 | 13/2 |
| Boris Johnson To Not Lead The Conservatives At Next General Election | 7/1 |
| Boris Johnson To Become Pm In 2019 | 15/2 |
| Boris Johnson To Be Suspended From The House Of Commons In 2019 | 14/1 |
Boris Johnson Betting
BEST ODDS
Odds correct as of 24th Oct, 10:03 . Odds are subject to change.