Jeremy Hunt writes to EU 27 to plead for compromise
The media are well aware that the bubbling Brexit cauldron is on the verge of boiling over.
Dominic Cummings and Boris Johnson have driven policy in the last couple of months with a rod of iron, bullishly declaring that the UK will exit the EU at Halloween come what may, setting a tone that appears to have now created a similarly hostile rhetoric from the continent.
Today, the prime minister is due to meet up with Irish Prime Minister Leo Varadkar to see if any compromises can be made with the Irish border issue, but the noises coming from Brussels are of hopelessness and irritation.
However, an unexpected voice of compromise emerged in the figure of Jeremy Hunt, who only a few weeks ago was battling Boris for the Tory Party leadership.
It appears that the ex-Foreign Secretary, who during his election campaign was seen to be too liberal and cast of too similar a mould to Theresa May to be effective, has taken it on himself to write to the EU 27 leaders and plead for compromise, on the UK's behalf.
Explaining his motives he explained, "I think we could be about to see a catastrophic failure in statecraft, not because of malevolence by the EU. I think they are sincere in wanting a deal", going on to clarify that, "they haven't really understood what's happening in British politics right now".
Of course Hunt was a remainer in 2016, so was always held with the same suspicion as Theresa May, by those on the leave side of the debate, but now is clearly desperate to avoid a no deal exit.
His letter is an entreaty to the EU to be more flexible and to compromise when it comes to agreeing to Johnson's plans, not because they are correct but that if an extension is granted and the PM wins a general election, his tone could be even more aggressive and bullish and detrimental to both sides.
Almost like a protective elder brother explaining his errant sibling's embarrassing behaviour Hunt explained, "If Boris wins, which is what the polls are saying, at the moment, and he comes back with a majority, that British government will be much less willing to compromise."
In essence, a lot of emphasis is being put on the role of Leo Varadkar, whose voice will be heard by the EU, and if he can agree to a compromise, then they will surely follow.
As has happened throughout the last three years, at pivotal moments in the Brexit journey, Tory grandees have come out of the closet to warn of its folly, what is unusual this time is that a current MP is using any power that he still has to act independently and warn continental cousins that Johnson could behave even worse in the future.
Meanwhile The People's Vote campaigners are ratcheting up for their most dramatic march yet on March 19, to demand a second referendum.
The chaos continues.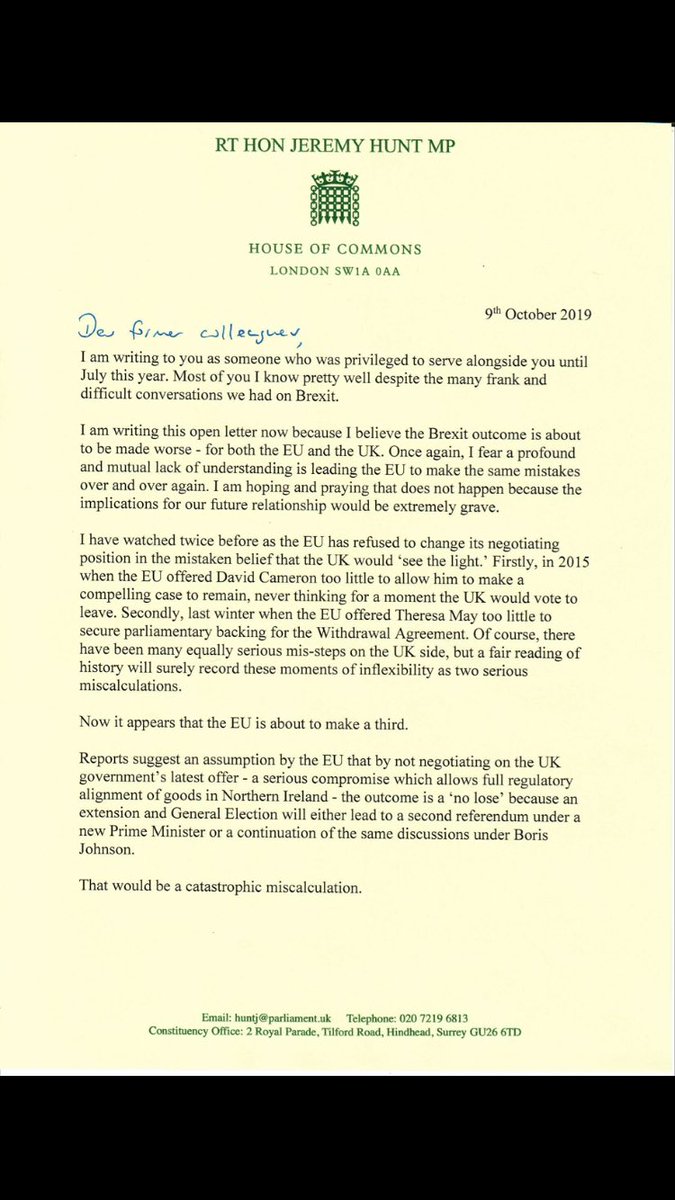 Month Of The Next UK General Election
| | |
| --- | --- |
| December 2019 | 11/10 |
| 2020 Or Later | 11/8 |
| November 2019 | 10/3 |
| October 2019 | SP |
| September 2019 | SP |
| Each Way Terms | 1/1 |
Month Of The Next UK General Election
BEST ODDS
Odds correct as of 10th Oct, 10:45 . Odds are subject to change.