DUP scupper Johnson's Brexit Deal
There has been little doubt across the media that this week has been seen as a crunch time for the Brexit negotiations between London and Brussels.
While Downing Street has been quiet on the PR front, and the EU have been similarly deflective of any questions, the murmurings that have emanated from both camps, particularly from Ireland's Leo Varadkar have appeared optimistic.
However, although Boris Johnson was due to fly to Brussels today, to present a Brexit deal to the EU 27, it seem that, at the last minute, the DUP have decked this house of cards.
Deadlines were moved from Tuesday night to Wednesday night, in aaa effort to reach an agreement, but it seems that the role of Northern Ireland has once again flawed the negotiators.
Earlier in the week, things were looking almost rosy and it seemed that even if Johnson failed to get a deal through the Commons on Saturday, that he would actually be able to present them with an alternative to Theresa May's Withdrawal Agreement.
Arlene Foster, leader of the DUP, and her cohorts are certainly wielding a disproportionate amount of power in the current crisis, but as a minority government, the Tories are totally dependant on their support.
Foster said today that, "As things stand, we could not support what is being suggested on customs and consent issues, and there is a lack of clarity on VAT."
It has also been suggested that a refusal to give the DUP a veto on future arrangements between Northern Ireland and the EU, is also at the heart of the matter, although there have been rumours that they could perhaps be bought off by Johnson with a large injection of cash, similar to the one that Theresa May used to initially get them on board in 2017.
However, in reality, there seems no doubt that Johnson is now held hostage by the Irish Unionists and the timetable, that was tight anyway, is looking impossible.
Saturday is the cut off date for The Benn Act to come into play, and at this rate it seems inevitable that an extension to the Halloween deadline will be inevitable.
Of course, this means that the PM can not lay the blame at the feet of the EU or parliamentarians, who may not have a deal to vote on on Saturday anyway, but he will be forced to admit that it is his so-called allies, who have brought negotiations to a halt. And more importantly have stopped him from delivering the promise that he will take the UK out of the EU by October 31, "do or die".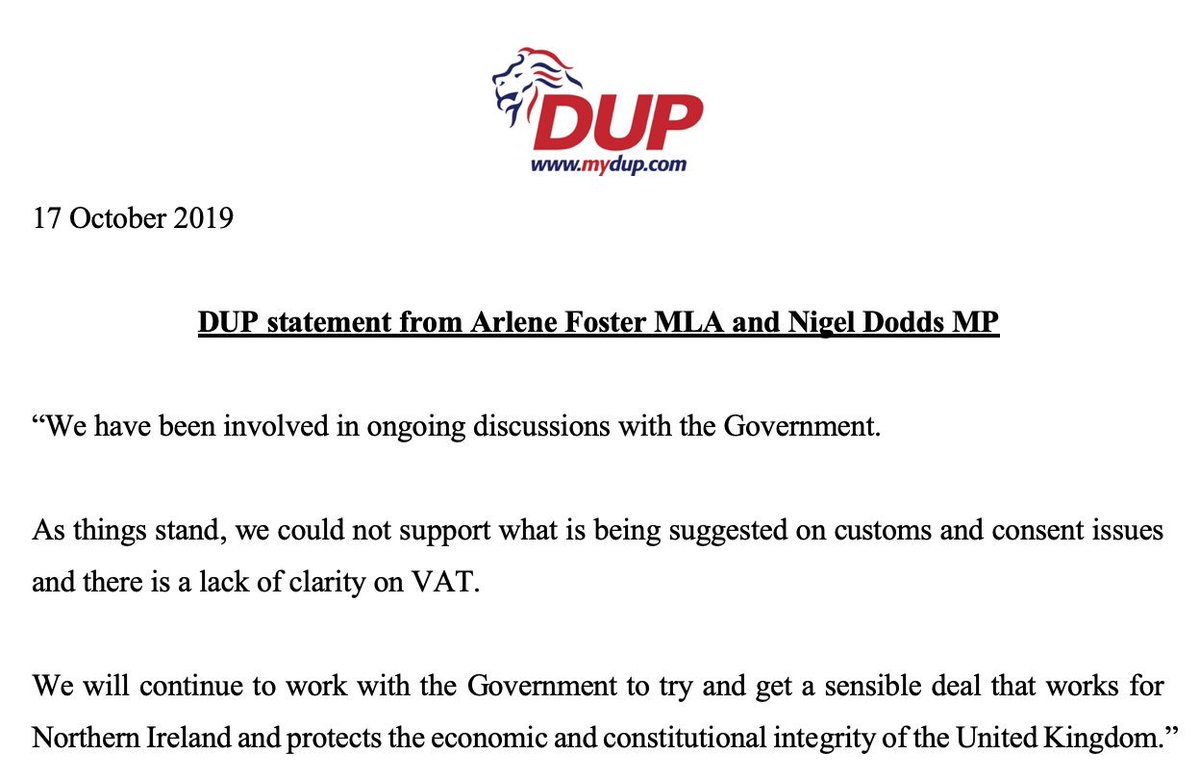 UK To Leave EU Before November 1 2019
BEST ODDS
Odds correct as of 17th Oct, 09:47 . Odds are subject to change.