Boris Johnson refuses to grant a second Sottish referendum
There can be absolutely no doubt that the SNP currently dominate Scotland and have strengthened their position in the recent general election.
First minister Nicola Sturgeon has consistently been a campaigner to remain in the European Union representing the majority who voted against Brexit in the referendum.
On the back of this, Sturgeon made it clear that she would be requesting the opportunity for a second independence referendum from Westminster in the belief that then the country would be able to carve out its own future in Europe.
Consistently fighting her conviction that the 2014 referendum would be, "a once in a lifetime opportunity", Sturgeon defended her comments by explaining that Brexit had altogether changed the political landscape making another vote appropriate and viable.
Yesterday, the PM finally officially rejected Sturgeon's request outright, which the irate First Minister deemed to be a blatant denial of democracy.
While Johnson's declaration was no surprise, it at the same time completely undermines the Scots ability to shape their own future. They are rendered powerless by the Westminster machine.
How this will now play out is unclear. If Sturgeon is unable to make any inroads into the control from Westminster, her own position, and that of her party, is totally compromised.
It looks likely that Sturgeon will turn to the devolved Scottish parliament for assistance and will shape some legislation that would ensure that Scotland could determine its own future autonomously.
The SNP hold 48 of the 59 parliamentary seats in Scotland, giving them enormous influence in the country and the opportunity to continue to turn the screws on Boris Johnson.
This story will not go away just because Johnson wants it to, and as the trade deal between the EU and the UK emerge over the next twelve months, Sturgeon will be keeping a sharp eye on the outcome.
The DUP were a thorn in Theresa May's side and there is every indication that the SNP will play the same role with the current PM.
A pro-independence march in Glasgow at the weekend indicates that Sturgeon and the Scottish population will not be quietened.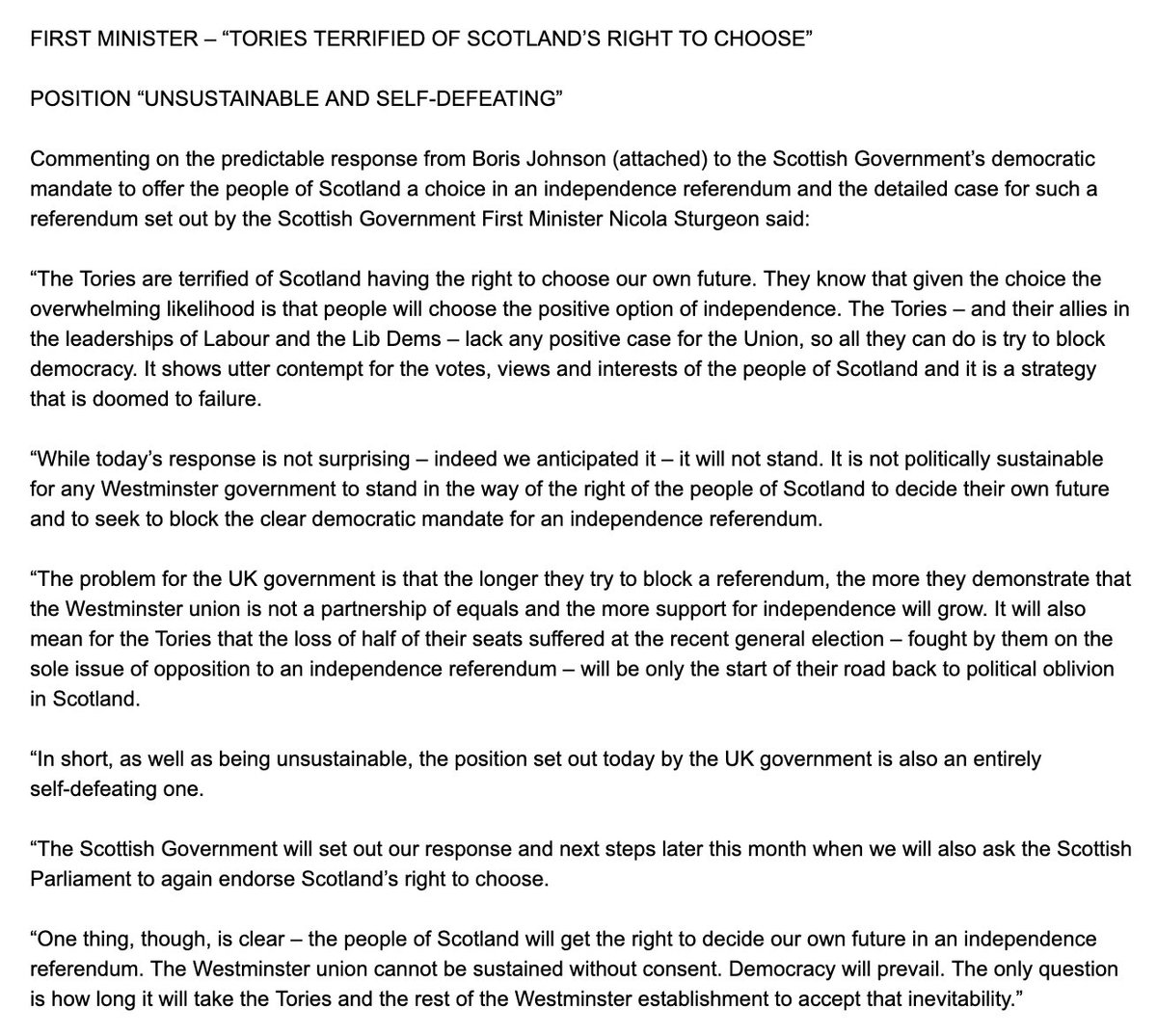 When will next Scottish referendum take place
BEST ODDS
Odds correct as of 15th Jan, 09:51 . Odds are subject to change.